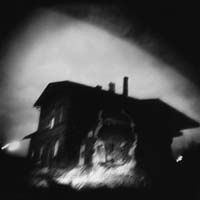 "
Godspeed retold the apocalypse using their quiet/loud dynamic in their album F# A# (infinity), but Set Fire to Flames brings us closer to the chaos that resulted after said apocalypse in their debut release Sings Reign Rebuilder. But if the whole 'apocalypse allusion' has been played out already, one can picture Sings Reign Rebuilder as a voice for those people who have been forgotten by contemporary society. SFtF employs the use of various found-sound excerpts, monologues from the SFtF-dubbed lyingdyingwonderbodies, whose speeches compliment the music as a juxtaposition of hope and desolation.

Now don't get me wrong; Sings Reign Rebuilder isn't a collection of religious nuts ranting and creaking staircases (although they don't exclude the creaking staircase). The music (a lot of it is actually very beautiful music) and the organic sound samples shouldn't be viewed as a dichotomy that oppose each other. Set Fire to Flames show their mastery of melding together the samples and music into a dialectic: where instead of being considered opposites, the music and sound samples play off and permeate into one another.

Though considered minimalist in nature, Sings Reign Rebuilder delivers a wide array of moods through its inherent musical diversity. Distorted violins/violas and twanged-out guitars are a couple of the biggest highlights throughout this album, and while those alone might sound trite and worn-out (especially in post rock), SFtF regresses from the Godspeed formula of build--recede, and instead explores the extents of its own aural boundaries. There is No Dance in Frequency and Balance is one of the more interesting tracks, considering it has a strong electronic influence as opposed to the rest of the album's strong organically-based music. The track moves along slowly with a loose drum beat, eerie white noise and a funky bass line until all the instruments hold for a second and the song breaks down into a distorted wave of beats and pressurized air.
"